WE ARE THE NON-PROFIT ENTITY RESPONSIBLE FOR MANAGING THE RECYCLING OF ALL GLASS PACKAGING WASTE IN SPAIN
The current recycling system was created after the Packaging and Packaging Waste Act came into force in 1997, and we started operating in 1998. This system ensures a comprehensive service that can be accessed by all citizens.
And here we tell you what we do!
Click on each circle to go to the corresponding page
And here we tell you what we do! Click on each circle to go to the corresponding page
Mission, vision

and values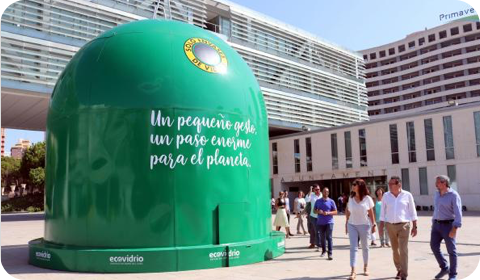 Mission
Our mission is to effectively and efficiently comply, in close collaboration with public administrations, with the provisions established by the law on managing glass packaging waste for member companies, with the aim of contributing to the principles of circular economy.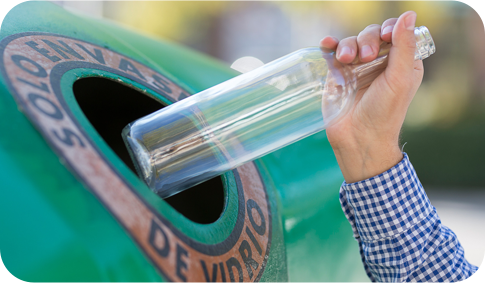 Vision
We want to be the benchmark in managing glass packaging waste and in promoting responsible recycling habits, with the aim of contributing to the sustainable development of a society based on a circular economy.

Integrity
We believe that our success is only possible by applying the highest standards of ethics and honesty in the execution of our mission, in the relationship with our partners, with our member companies, with public administrations and with society as a whole.
 

Sustainability
We work every day towards achieving a more sustainable future and raising awareness among the public. We promote a system that protects the environment, creates employment and is economically efficient. We follow the principles of a circular economy, transforming waste into a valuable resource, saving raw materials and energy, and reducing CO2 emissions and the volume of landfill waste.

Efficiency
We optimise the resources we have available, seeking to ensure excellence in our management to achieve the objectives established for the system. We meet the expectations of our stakeholders and work as a single team.

Commitment
We comply with the legal mandate that led to our inception and our corporate purpose: ensure the proper management of glass packaging waste. We are committed to environmental care and sustainable development, the development of people and serving the public, while closely collaborating with the member packaging companies, public administrations and industry that is part of the entire recycling chain.

Transparency
We are transparent in our internal and third-party relationships. We are accountable for our activity and subject our management to internal controls and independent audits.
 
Get to know us at

a glance!
Watch our video to get a broader view of what we are and to get to know us a little better.