The horeca sector, in addition to generating employment and economic activity, is a key driving force in achieving sustainability and helping our tourism and gastronomic offer being more environmentally friendly. It is a key factor in the transition to a circular economy and sustainable development!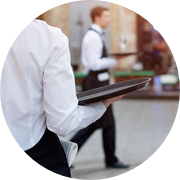 1 establishment generates an average of 23 glass packaging items a day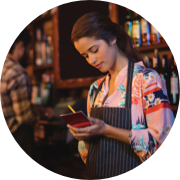 It generates 52% of single-use glass packaging waste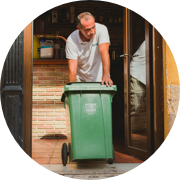 According to our studies, 62% of the horeca sector is committed to recycling glass packaging
How do we help

the horeca sector?
A COUNTRY OF RECYCLING BARS!
Since our inception, we have been working on mobilising the horeca sector to recycle glass packaging and facilitating their work. Click on each of the six dots to see everything we do for them.

Door-to-door collection service for the horeca sector
Imagine the city centre, the hustle and bustle, the narrow streets and the mass of bars and restaurants to choose from... and all the glass packaging waste that is generated... we go right into the kitchen! In areas where it can be environmentally and economically efficient, we directly initiate or finance door-to-door collection services for the horeca sector.
Before doing so, we first study the characteristics of the area and the needs of these establishments; we provide special bins; and set a time to collect the glass packaging waste so small vehicles can enter and do their job.
More than 50 cities have committed to this option, and we are currently collaborating with town halls covering Malaga to Santiago de Compostela, through Zaragoza and Bilbao.

Adapted means
Bars, restaurants, cafeterias, beach bars... Calculate all the single-use glass packaging that can be generated in just one day!
To help the horeca sector to separate, transport and deposit this waste in the green bin, we have designed a wide variety of means and special bins that facilitate this task.
Check them out here! (In Spanish) >

Special infrastructures
Every day we make sure that the bins used for recycling glass packaging are near the bars and restaurants, but not just that.
We manufacture unique and special bins with self-emptying mechanisms that help professionals in the horeca sector to recycle a large amount of waste quickly and safely.
Discover them here! (In Spanish) >

Environmental information officers on the ground
Our environmental information officers cover each street and municipality with the aim of, among other activities, informing the horeca sector about glass packaging recycling and mobilising them.
They also conduct interviews and studies and help the horeca sector reinforce a habit of separating these glass packagings. They are infallible! They visit an average of 180 establishments a day.

Incentive and motivation campaigns
Local festivities, festivals, fairs... There are many examples in which the horeca sector plays a key role in our country.
We travel from the Falles in Valencia to the casetas (marquee tents) in the Seville April Fair to help in the recycling of glass packaging. We also organise challenges, competitions and mobilising activities.

Intensive plans in high consumption periods
Christmas and summer are periods in which the consumption of products in glass packaging grows. During these periods, we step up our operations with the aim of maximising the collection of this waste and ensuring its recycling.
In summer, for example, we visit beach bars, place thousands of glass packagings and increase the collection frequency in areas of high tourism potential.
OTHER INTERESTING CONTENT ABOUT OUR ACTIVITY
They have become an icon of glass packaging recycling and a key element in our cities. Would you like more information and interesting facts about them?
Glass packaging collection is our speciality. And we have two ways of doing it, would you like to know which they are?